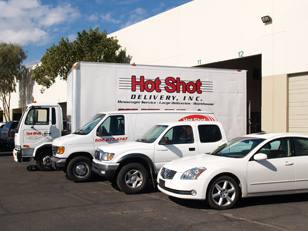 Hot Shot Delivery has been servicing the Metro Phoenix business community since 1986. We provide the following services:
Document Delivery - 1, 2, 4 and 7 hour
Freight Delivery - a parcel, pallet or truckload
Process Service
Airport Delivery & Pickup
Mobile Notary
Warehousing & Storage
Scheduled Pickups & Routes
Bank & Mail Runs
Hot Shot is licensed, bonded and insured. We currently have 20 delivery drivers, 8 notaries & 2 licensed process servers.
We are a member of the: Messenger Courier Association of the Americas and National Association of Private Process Servers.
Our Management Team/Experience

Jon Fillerup was born in Los Angeles. During middle school he moved to Las Vegas. He worked at Caesar's Palace for seven years. He served a two year mission for his church in Guayaquil, Ecuador. Afterwards, he attended ASU earning his business degree in finance. Jon is a licensed Private Investigator, Notary Public, and a certified Process Server in Arizona. Jon and  his wife, Jackie, were high school sweethearts and now have four married children and fifteen grandchildren.

Brian grew up in El Segundo, California, a suburb of Los Angeles. As the 6th of 11 kids, Brian learned how to get along with others quickly. He graduated from BYU with a bachelor's degree in Business, with an emphasis in Finance and Accounting. Brian was a four-year member of BYU's power lifting team. Brian spent several years with Micron and moved to Phoenix in 1997 to manage their west coast expansion. He has over 18 years of management experience, including 11 years as Vice President of Hot Shot Delivery. Brian is a licensed Process Server, a Notary Public, and a member of Executive Association of Greater Phoenix. Brian is a big fan of Arizona sports teams, including the Diamondbacks, Cardinals, Suns and ASU. He enjoys spending much of his free time with his wife of 20 years, Shalon, and their five daughters, ages 19, 17, 15, 11, 11. Bri attends ASU, Aubry and Olivia attend Mountain View High School in Mesa and identical twins Marina and Mikella are in elementary school.

Patti has been with Hot Shot for 30 years and enjoys the fast-paced and constantly changing industry. She loves the loyal customers that are so terrific to work with over the years. She attended Mesa Community College, and she loves living in Arizona. Her husband of 32 years enjoys the year-round AZ golf courses. They are the proud parents to three daughters - all ASU Sun Devils.
Gerald Jaramillo is from Los Angeles, CA. He is a big sports fan ("Go Dodgers") and loves to play baseball/softball. Gerald has spent most of his working career in the delivery and warehouse business. He has been with Hot Shot for the last 15 years. In that time he has proven himself as a solid dispatcher, training and customer service rep. In the last few years with Hot Shot, he has been our Warehouse Operations Manager. Come on down and see our warehouse facility and you will see Gerald smile with pride. He enjoys spending time with his wife and their three children.

Katrina Prentice has been a dedicated employee at Hot Shot Delivery for more than 20 years.  She knows the business inside and out since she has held many roles  and responsibilities with us.
Katrina is an Arizona native.  She is the proud mother of two very active kids.  Her son is a junior in high school and also in a tech school to earn his HVAC certifications.  He works part time and is involved with his youth church program.  Her daughter is planning on attending community college and is very involved in volunteering at their church.   When she isn't working, Katrina is an active Girl Scouts volunteer.  She loves to travel, volunteer with different organizations that her kids are involved in and relax with family and friends.
Chris Turnage was born as an Air Force baby in Kansas City, Missouri. After spending time in several cities in the US and Europe as a child, his family returned to Arizona when his father completed his military service. He grew up in west Phoenix, served a mission to Belgium and France, and returned to attend Arizona State University. Chris is a big Sun Devils fan and earned his Bachelors Degree in Finance from ASU. He and his wife Cindi have a family of six children. Chris spent 10 years with a major Arizona bank and another 16 years working in commercial finance, which allowed him to learn the operations, needs and opportunities in a wide variety of businesses. Chris is a licensed Process Server and Notary. In his spare time he is an avid scuba diver and is a certified PADI scuba instructor. Favorite Quote: "Try not. Do. Or do not. There is no try."
Rebecca was born and raised in the Phoenix area. She brings 30 years Customer Service experience, 10 years dispatch experience and 5 years account management experience from various jobs. She enjoys attending various sporting events, music, theater, and fishing. In her free time, she spends time with her dogs, family & friends.